I teach trauma-sensitive teams how to notice the need and meet the need with individuals, groups, and entire school systems. Often, educators in live seminars respond with really good questions. Other folks likely have similar wonderings but may not be present for my responses. That's why I've created new quick guides co-authored with different trauma-informed experts and published by Paul H. Brookes Publishing Co. Each colorful publication is organized into eight easy-to-read panels that give every educator answers to specific trauma-sensitive questions. They're full of practical tips along with activities and downloads you can start using with your learners right away!
Each Quick Guide's Answers to Trauma-Sensitive Questions
Check out the titles, topics, and the guiding questions that sparked each quick guide. Then be on the lookout for future posts as new titles become available. There's so much good stuff coming your way!
Now get ready to learn two tips from the first trauma-sensitive classroom design quick guide! The first is about bringing nature into your learning environments, and the second is about avoiding clutter.
Nature in School Spaces Promotes Regulation
This video explains three ways to bring nature into your classroom based on Ms. Jen's work with Anna Paravano, a trauma-informed interior designer and educator. (References: 1) Alexander, J. & Paravano, A. (2023). Creating a regulating classroom environment: A guide for trauma-sensitive educators. Paul H. Brookes Publishing Co. 2) Dodge Data and Analytics. (2016). Drive toward healthier buildings.)
Avoid Clutter to Design a Trauma-Sensitive Classroom
Did you know that too much stuff in learning environments can overwhelm folks but not enough can lead to boredom and disengagement? Be mindful of what's in your school spaces. Include things that enhance learning or support students when they feel discouraged (e.g., words of wisdom like "We all make mistakes—it's how we learn"). Don't, however, let clutter get out of control. Use baskets for supplies to decrease visual overload, and change out learning aids or charts on your walls based on what students need access to most.
More Learnings for Creating a Regulating Classroom Environment
These suggestions are truly just the beginning. There's so much more you can learn from Anna Paravano and me (2023) in Creating a Regulating Classroom Environment, including tips about color, focal points, and co-creating safe, personalized spaces in the trauma-sensitive classroom.
Here's what one middle school teacher said about the guide, "I didn't know that relatively small changes in how I use color in my classroom could prevent both underwhelm and overwhelm for everyone—so thankful for this information because it's one thing I can influence in our school community."
Check out this resource and let us know what you decide to try! Also, stay tuned for more answers to trauma-sensitive questions in upcoming quick guides.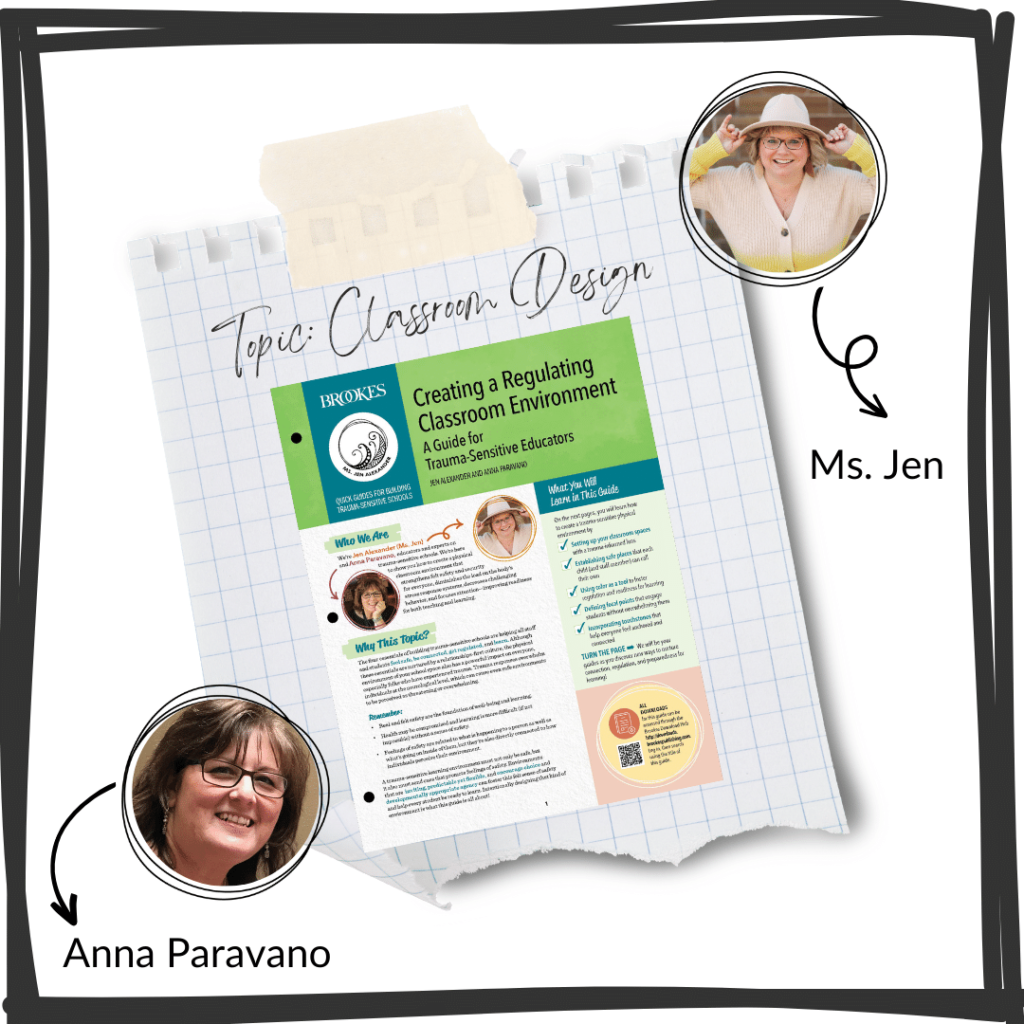 Take good care,