Thanks so much to everyone who joined my webinar with Brookes Publishing this week. I enjoyed teaching you about the River of Feelings, which is a visual from my new book Building Trauma-Sensitive Schools: Your Guide to Creating Safe, Supportive Learning Environments for All Students. Participants shared excellent questions and gave positive feedback. You truly warmed my heart!
To recap, the regulation tool and accompanying activities are one way to teach students about stress responses, including when they feel "too much," "not enough," or "just right" inside. I suggest using it with youth who are in grades three and above. Importantly, know that I have used it successfully with adolescents and adults as well as youth in elementary school. Once folks can identify where they're at on the River of Feelings, which definitely takes practice, you can begin teaching regulation strategies that will help everyone "go green." Read my book to learn more about what regulation strategies might be best to try with your students!
In follow up, there are several things you can do now to further your learning and your students' learning too. Specifically, find links and other information below that will allow you to watch the webinar, purchase posters, ask questions, and make your own River of Feelings wall display. Then, be creative and come up with your own ideas about how to utilize the visual in your setting.
Watch the Webinar About the River of Feelings
First, click here to access the Brookes Publishing webinar. It's approximately one hour in length. In it, I walk you through exactly how to introduce the River of Feelings in a classroom lesson.
Purchase Posters
Next, think about how you will help your students visualize the river. Color posters of the River of Feelings that my oh-so-talented illustrator Carol Hinrichs created are available for purchase here. As a bonus, if you're within driving distance of my team, we would be happy to process bulks orders for you and then, deliver them right to your doorstep. When that works for both your schedule and ours, your shipping is absolutely free! Email me at info@msjenalexander.com for details.
Ask Questions
Once students are familiar with how to use the River of Feelings, you can help them identify their color and number at any time. For easy reference, here are the questions to ask students at any time once they have practiced using the visual. At first, you may need to help students figure out their color, number, and what might help them go green, but with practice, they will become more independent.
What's your color?
What's your number?
What might help you "go green?"
Make a Wall Display
Here's an idea for a wall display that will bring the River of Feelings to life in a big way! Special thanks to my interns who helped make this one. We made the river on large piece of paper by drawing it out freehand. Then, we glued fabric on the paper using spray adhesive. Once dry, it went up on the wall with gobs of rolled up pieces of tape. In case you're curious, the edges on this river came from plastic leis that we cut in one spot on each one so they could be stretched into a line for the edging. Again, lots and lots of rolled up tape is necessary for keeping it all on the wall! All in all, it's a great visual reminder for kids (and adults). I encouraged everyone to identify their color and number on the River of Feelings each time they walked by, which was exactly the practice they needed.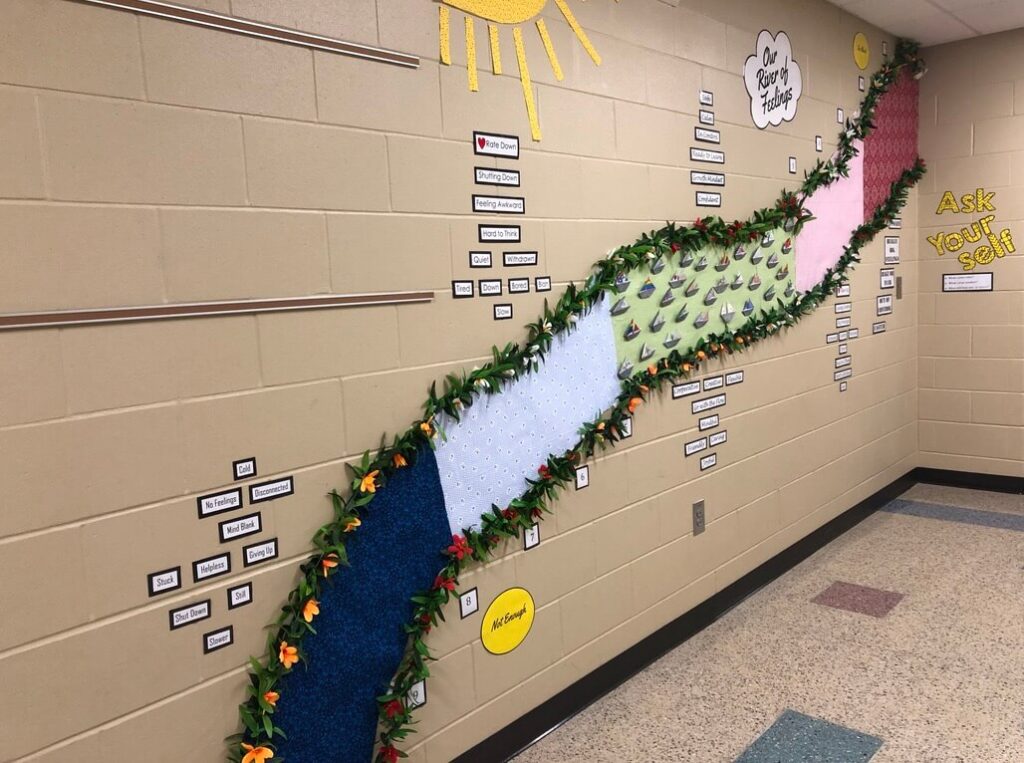 Want to make your own wall display? Invite your students to help make or label the river. Or, if you want to include the words I used, click below to download the words and numbers shown in the picture above.
To Learn More…
To learn more about teaching an entire unit about the River of Feelings, attend an upcoming level II building trauma-sensitive schools training seminar with Ms. Jen. Ideally, educators attend in teams, but it's also okay to register by yourself. Come to learn how to help all students feel safe, be connected, get regulated, and learn. Leave with a trauma-informed action plan to improve instruction and interventions in your setting. Find out more about upcoming trainings on my events page.
Purchase posters of the River of Feelings at Ms. Jen's Shop. This important visual is a tool that will help you help students get regulated.
What other ideas do you have for using the River of Feelings visual with your students? I would love to hear from you!
Learning together,

#BuildingTraumaSensitiveSchools #GetRegulated #RiverofFeelings #GoGreen